Display Bench.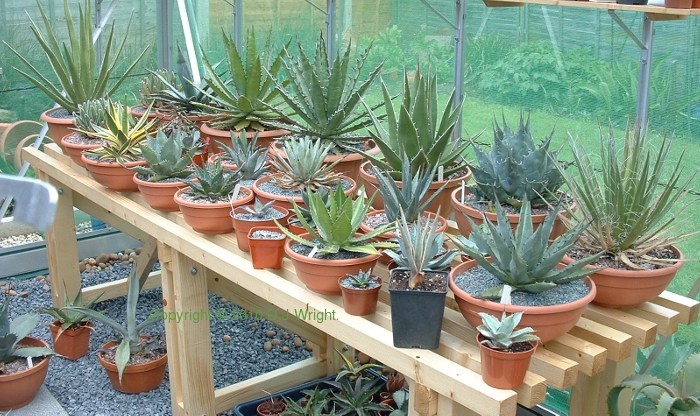 Agave Display Bench.
Why build rather than buy off the shelf?
The idea behind this bench was to be able to display some of my larger plants at a comfortable height. Commercially available greenhouse staging would not be up to the job. Secondly, the long term plan was to be able to display them outside in the summer. To carry the weight of these plants, the bench would need to be of substantial construction and be easily dismantled should the need arise. After looking at what other people had done for display of bonsai, a wooden bench made from readily available materials seemed the way to go.
Size.
The height of this bench was set at 0.7m which suited me for the purpose being able to easily reach over it to gain access to other shelves attached to the greenhouse frame and for lifting heavy plants on and off the bench. The length of 2.4m was determined by what size of timber was readily available and could easily be transported home.
Display Bench Construction.
Top Rails
The top rails were made from eight 44x44x2400 mm planed square edge timber, spaced 44 mm apart and attached by screws to battons on the underside. The square edges were rounded a little by sanding.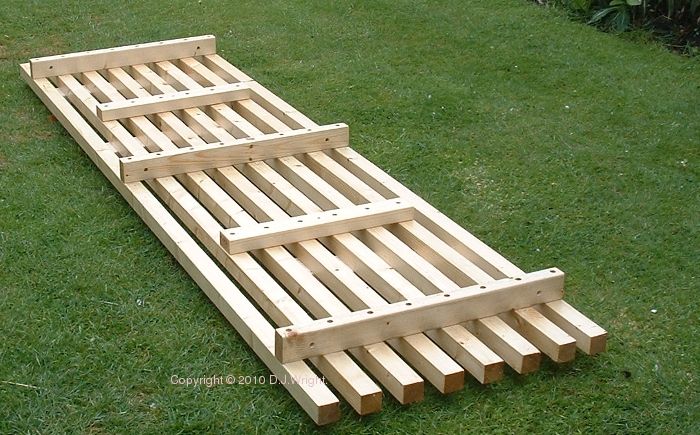 Top - Underside
Legs
The legs were made from 63x38 mm and 89x38 mm studwork timber and bolted together with 8 x 130 mm coach bolts. The height of these is 660 mm and 616mm wide. A temporary jig was made using some scrap wood to hold the leg components square during drilling and measurements for the cross braces. The cross braces were made by making up a makeshift mitre box from some scrap wood so that the angles would be consistent across all three legs. Some studwork timber has a better surface finish than others and by being selective you can save time on sanding later.
| | |
| --- | --- |
| | |
Assembly
The legs were attached to the top rail battons using 10 x 130 mm coach bolts. After squaring up the legs, cross braces were cut to size and attached with 6x100 mm coach bolts.
Finishing
After checking assembly the bench was dismantled and each component was sanded, followed by some wood preservative and four coats of Danish Oil.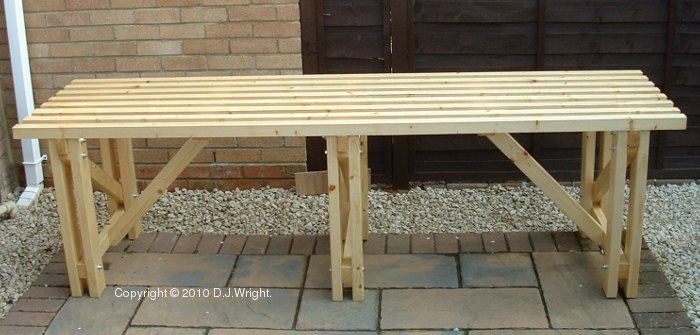 Completed Display Bench.